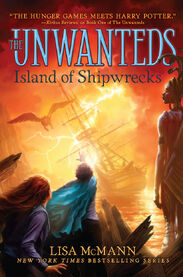 The Island of Shipwrecks is the fifth book in The Unwanteds series by Lisa McMann.
Alex and his friends from Artimé are stranded on a newly discovered island after barely surviving a storm that destroys their ship. And it turns out they're not alone…Back in Quill, Aaron's power base grows as he aligns himself with an unlikely ally. Together, the two enact a drastic, risky plan to finally conquer Artimé—a plan that could ultimately leave everyone in both Artimé and Quill in far more danger than Aaron realizes.
Ad blocker interference detected!
Wikia is a free-to-use site that makes money from advertising. We have a modified experience for viewers using ad blockers

Wikia is not accessible if you've made further modifications. Remove the custom ad blocker rule(s) and the page will load as expected.