Lani is the daughter of the current leader of Quill, High Priest Haluki. She is a minor love interest so far of Alex Stowe and Samheed Burkesh.She played a major role in the Quill VS Artime war as she killed the High Priest Justine. She is the youngest known Unwanted as she was eliminated at 12 excluding her brother Henry,who was purged at age 10. She is a current Artiméan.
Finding Artimé
Edit
Lani is the second youngest known person to be Purged, as she was Purged, Senior Governor General Haluki at just age 12. Her younger brother Henry Haluki was purged at the age of 10. After, she was crying and being smaller than the rest of the kids on the bus. She quickly befriends Alex Stowe.
After she finds Artimé, she becomes interested and excels in almost every subject equally except for drama, as that is her worst subject. Lani becomes friends with Meghan, Alex, and Samheed and they form a small group of friends. After a period of time, she was promoted to Magical Warrior Training before Alex and uses her spells to tease and prank him. Alex becomes angry and cuts off his friends almost completely for six months after being hurt again by Lani. During Magical Warrior Training, Alex becomes friendly with his group again but also gets revenge on Lani. During one of the classes, to demonstrate a spell, Alex turns invisible and kisses her on the cheek.
Alex then gets a new clue on finding Aaron and sees Quill, once again cutting his group of friends off. 3 days later, after the incident, Lani storms into his room and gets Alex's attention again. After telling him that he can't just kiss a girl on the cheek and not talk to her for three days.
After Alex exposes Quill by meeting Aaron again, Lani plays an important part in the war. She shoots her father, meaning to kill him, but he turns into a wolf that lives on Artimé, who helps to protect it. Later she finds out that he was a spy for Artime in Quill. She is the killer of the High Priest Justine, who is also Mr. Today's twin sister. After the war,Alex's and Lani's romantic feelings are hinted again when Alex plays with Lani's mango scented hair. She likes Alex, but it was mentioned that he ignored her when Meghan was around. She fired spells at Alex to get his attention.
Island of Silence
Coming soon.
Island of Fire
At the beginning of the book Lani and Samheed are trapped on an island.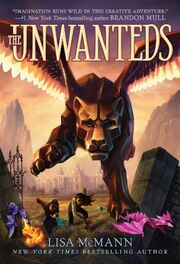 The painful thorn necklaces that make you unable to speak that have been put on Meghan, Sky, and Crow are put on Lani and Samheed. Samheed and Lani are put into a very dark cave, and they form a bond tighter than friendship. Samheed has developed romantic feelings for Lani.
When Lani is taken out of the cave, away from Samheed, Samheed loses most hope and becomes slightly depressed. When he is taken out of the cave as well, he discovers that he and Lani will be put to work on the Island Of Silence (Warbler Island). They are both relieved to see that both of them are alive, and silently, they both figure out that they kind of love eachother. When they are allowed to learn the sign language of Warbler, they use that and the secret tapping lanuage they created in the cave. They both are worried that Alex and the other Unwanteds have forgot about them completely and they lose hope in them for a short time.
The reason Alex and the other Unwanteds have not saved them is because when Mr. Today died, the whole of Artime is gone and It has taken over a month for Alex to restore it. In this process, he falls in love with Sky, a beautiful girl from Warbler island. He sometimes thinks of Lani and feels guilty, and he still knows that he is attracted to her, even the slightest bit. But he doesn't know what has happened between Lani and Samheed.
When Alex and some other Unwanteds save Lani and Samheed, Alex gets a small clue that Samheed and Lani have a different connection then before. When they are back on the ship and Lani hears the news that her mother is dead, Alex expects that she will want him to hold her in his arms and comfort her, but instead she turns to Samheed and holds out her arms. He picks her up and comforts her with soothing words and keeping her close to him in a hug, which feels slightly more romantic and caring then friendly and normal. Alex's heart breaks slightly, but then he realizes his strong feelings for Sky.
When Alex is injured because of the bold rescue, He knows that Samheed and Lani are spending most of their time together. When Sky tries to leave Artime, Alex swims out to her despite his injuries and admits his true feelings for her. She agrees to stay in Artime for the time being.
When the new Unwanteds start rolling in, Alex, the new head mage, starts the tradition of an annual Masquarade ball. During the ball, the people from Warbler Island try to take Lani, Sky, Samheed, and Crow back to Warbler, because that lot is their property. The story will be continued in the Island Of Legends coming 2014.