Fox is a driftwood golem that first appeared in Island of Fire. He is Kitten's best friend, and is very loving to her.
Fox and Kitten seem to badly overreact to not knowing each others' well-fare, as when he realizes he doesn't know where Kitten is, Fox cries for joy upon finding her sleeping in someone's shirt pocket.

In this scene, Fox also shows himself to have that personality that just talks for the sake of talking.
This also led to the joke referencing a song that came out at about the same time,The Fox, claiming that the answer to the question the song revolves around is "Kitten is missing!"

Despite the fact that all anyone hears from her is "Mew, mew, mew!", Fox seems to be able to understand her and translate.
Apparently, Kitten finds Fox's forehead to be a very comfortable spot to sleep.
Fox is the only Artiméan golem known to be made purely of wood. Octavia is made of plant matter, but that's not necessarily wood.
*Spoiler alert! Fox almost gets dragged away by an eel when listening to Queen Eagala during the battle in Island of Dragons
In Island of Legends, Samheed initially suggests bringing Fox and Kitten on the rescue mission, to which Alex responds, "What for? Comic relief?"

However, Samheed points out that Fox is one of very few large golems that can swim, and that Kitten can sneak into tight spaces, so Alex puts them on the list.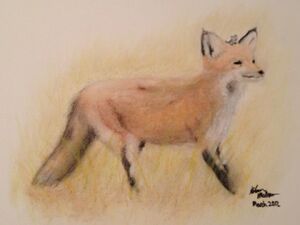 Fox with a tiny Kitten standing on his head. >>
Ad blocker interference detected!
Wikia is a free-to-use site that makes money from advertising. We have a modified experience for viewers using ad blockers

Wikia is not accessible if you've made further modifications. Remove the custom ad blocker rule(s) and the page will load as expected.